Cardio personal training
You will see the change after the first few weeks!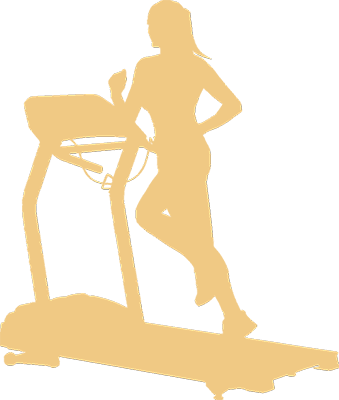 Power cardio and cardio training in Gold Fitnessstudios as an additional training to our other training programs.
All our personal trainers deal with cardio training programs in all studios in Vienna. Try how useful it can help you achieve your goals in addition to strength training programs. Read the description, where we explain the benefits and effects of this training method.
Cardio workout
Gold Fitnessstudios private women's peronal training studio in the 6th district, Vienna.
What is this type of training about?
Cardio training is now a type of training known to everyone. We could meet it on many websites and it is also included in various training plans. But what exactly does cardio training mean and why is it so important? The word CARDIO is of Latin origin and means heart. The exact professional name of the trainings is cardio-vascular training. During training, we train our heart and vascular system by raising the heart rate. The muscles of the heart become stronger, thus energy will work more efficiently, the elasticity of the vessel walls increases, the blood supply to the cells improves, the training improves the lung capacity, which contributes to more efficient breathing and oxygen supply, which improves the functioning and condition of our cells. In a word, it keeps the two most important engines of our body, the heart and its blood vessels, and the lungs, vital. After reading this, there can be no question that it should be a mandatory part of any well-structured training program. In addition to the physiological effects, it has an important role in weight loss, i.e. in reducing body fat, and it also affects our spiritual and mental state. As a result of training, the production of hormones such as ENDORPHIN, which is the hormone of happiness. Physical and mental recharge and a pleasant feeling of well-being affect us as a result of training.
How does a cardio workout led by a personal trainer take place?
Cardio training is more than just going for a run or a bike ride. During cardio training, it is important to know what our goal is. Do you want to improve your endurance, do you want to lose weight or are you even preparing for a competition where you have to perform under special conditions? During cardio training, we work with heart rate control, and our heart rate range will be determined by the heart rate zone corresponding to our goal. Calculating this requires professional knowledge, so our trained personal trainers at SHE Fitness will put together your program for you.
Cardio training methods and Power cardio
Cardio training, like functional training, is fun and very colorful. The number of possibilities is almost endless, so you don't have to be afraid that you will get bored of the training. Cardio machines are available in each SHE Fitness studio. In addition to treadmills, airbikes or rowing ergometers and, of course, machines, we work with a number of exercises that can be performed with your own body weight or small weights of 1-3 kg. Such are, for example, various jumps, such as jumping jack, box jump, but even a strengthening exercise, such as the lunge, can be a cardio exercise if we change the dynamics and the load. Cardio training made up of strengthening exercises is called endurance training. Regarding the methods, we follow the principle of continuous and gradual loading, so our guests get away from simpler exercises and methods, such as the marathon method, where we work at medium intensity for a long time until more advanced interval-type training. In all cases, cardio exercises are used as a complement to strengthening and stretching exercises and appear in each training session.
We are waiting for you, come and try the positive effects of our cardio presonal training!